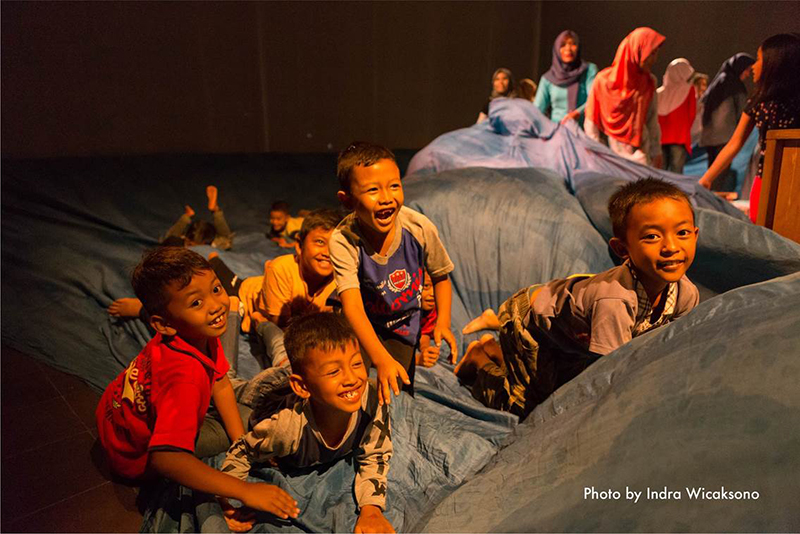 Special performance ARTJOG 2018 – CERITA ANAK (CHILD'S STORY)
By PAPERMOON PUPPET THEATRE (INA) & POLYGLOT THEATRE (AUS)
Statement Ria Papermoon:
"Cerita Anak (Child's Story) di Yogyakarta dibawakan dalam versi yang berbeda dengan pementasan sebelumnya yang sempat digelar di Asia Topa Melbourne dan Perth Festival.
Karya yang semula hanya bisa dinikmati oleh 40 orang penonton yang kemudian menjadi penumpang dan menjadi bagian dalam pementasan, kali ini dinikmati oleh 200 orang dalam sekali pertunjukan, dengan adanya penonton yang menyaksikan pementasan di balik kain kelambu.
40 orang penumpang bahkan tidak menyadari bahwa mereka menjadi 'penampil' yang ditonton sekitar 150 orang.
Apa yang terjadi di atas panggung, adalah reaksi spontan mereka atas stimulan yang diberikan melalui musik dan suara, tata cahaya, proyeksi video dan juga akting 3 aktor yang berperan sebagai anak buah kapal.
Tema mengenai sejarah maritim pulau Jawa, dan juga kisah nyata seorang anak Srilangka yang menjadi salah satu pencari suaka di Australia, adalah titik tolak berangkatnya kisah ini. Pementasan ini membawa makna lain bagi pertunjukan teater untuk anak-anak. Bahwa ada lapisan yang sangat mudah dinikmati oleh anak, dan ada makna yang dalam yang bisa ditangkap melalui kacamata orang dewasa."
Kehadiran dan presentasi pementasan ini di Yogyakarta merupakan hasil kerjasama Papermoon Puppet Theatre, Polyglot Theatre, Padepokan Seni Bagong Kussudiardja, dan ARTJOG. Acara ini didukung penuh oleh Dinas Kebudayaan DIY, Australia-Indonesian Institute, Australia Council for the Arts, Creative Victoria, dan The City of Melbourne.
Pementasan Cerita Anak masih berlangsung sampai dengan tanggal 29 April 2018 di Padepokan Seni Bagong Kussudiardja