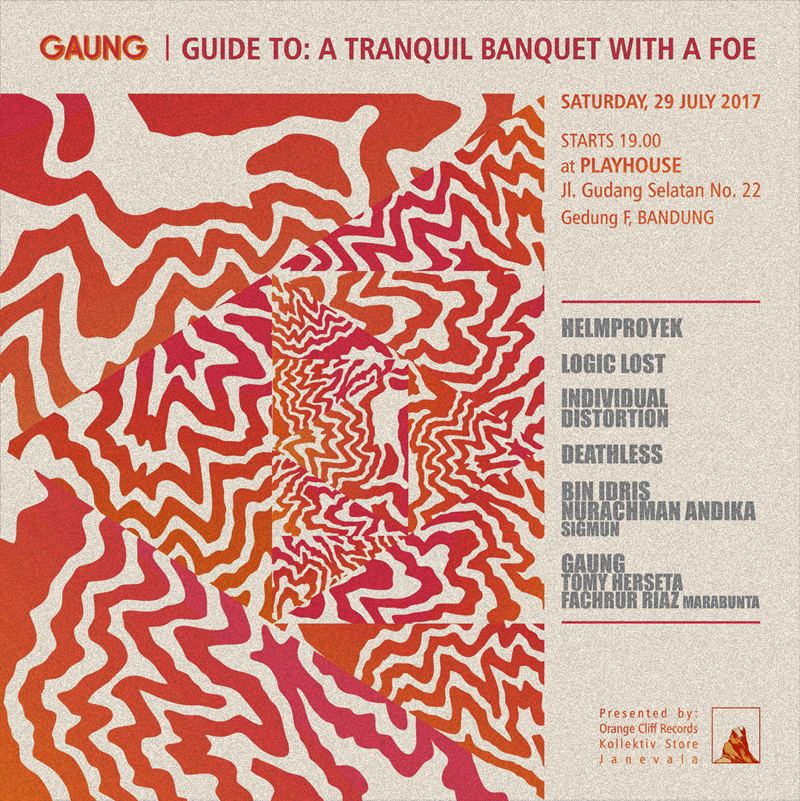 Gaung's Guide On: A Tranquil Banquet with A Foe
Setelah resmi menelurkan album perdana bertajuk Opus Contra Naturam pada Selasa, 18 Juli 2017 lalu, Gaung, unit instrumental rock asal Bandung, akan segera menggelar perayaan soft launching dari bundel karyanya tersebut yang berjudul Gaung's Guide On: A Tranquil Banquet with A Foe. Acara ini adalah hasil kolaborasi antara Orange cliff Record, Kollektiv Store, dan Janevala.
Sebelum merilis Opus Contra Naturam, band dengan komposisi Rama Putratantra (gitar, bass, field recorder) serta Rendy Pandita (drum) ini sebelumnya sempat pula meluncurkan kaset dengan kuota terbatas yang berisikan dua single: Killing with Virtue dan Global Problem Listening Class.
Acara yang akan terselenggara pada hari Sabtu, 29 Juli 2017 tersebut berlokasi di Playhouse, Jl. Gudang Selatan No. 22. Kontennya sendiri akan berformat DJ set dan dipenuhi oleh para musisi yang menggubah musik elektronik: Gaung (featuring Fachrur Riaz dan Tommy Herseta), Logic Lost, Helm Proyek, Deathless, Individual Distortion, serta proyek kolaborasi antara Bin Idris dan Nurachman Andika.