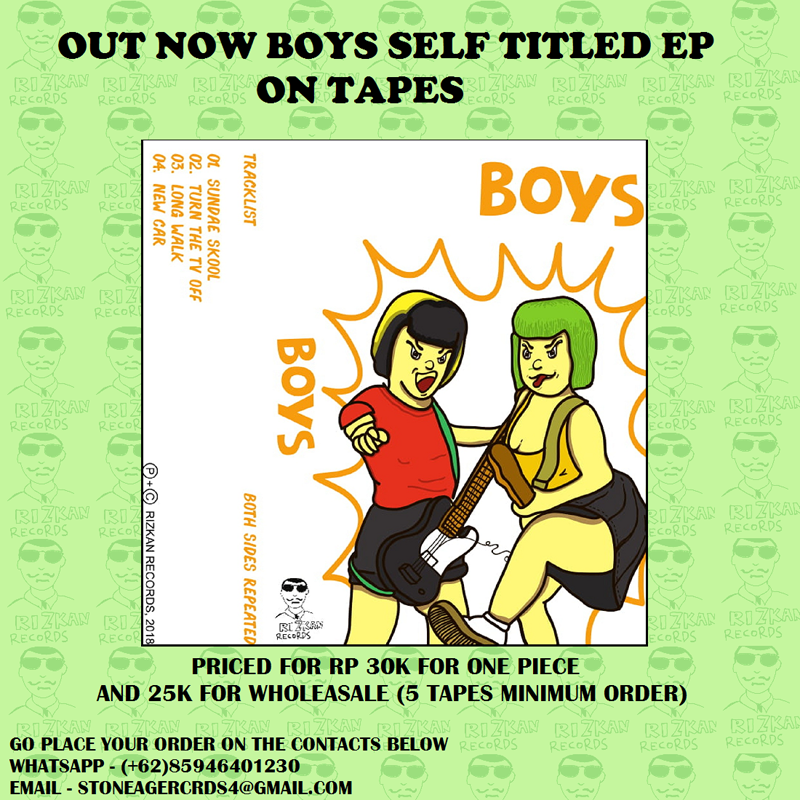 Rizkan Records is back to terror your email box YAY! This the spending money session comes from Boys! Yes we just put out a kickin girl-power band! So this time I just put out their past EP that being released on 2013 and of course I do some rework for the cover. And thanks to Farhan of Fatrace for being down in hand for this project. If you havent noticed about who this band is, well I tell you this band featuring some members from Mixtapes (Maura Weaver on guitar) and Lipstick Homicide (Rachel on bass guitar). Boys and Megan's songwriting has been my favourite thing along with another Bloated Kat pals like Rational Anthem, Houseboat, Jabber, Like Bats, etc. Well in any short describtion, Boys musicality will kindly take you back into a great 2000's girly pop punk tunes (One hint for your head : Josie And The Pussycats).
Just put it out on tapes and if you're interested for doing some reviews for this stuff, please kindly just reply the email and I'll send you back with the digital file.
Rizkan Records kembali meneror bulk email anda YES! Dan kali ini kita dapetan Boys buat dirilis ulang EPnya yang kmarenan rilis di taun 2013. Yak kita mah doyan mungut si #adaaaa. Jadi sebuah kebanggaan juga si sebenernya buat gw bisa ngerilis band asal Ohio ini yang dimana sebelumnya kita emang adore banget sih sama sound mereka pas dengerin beberapa rilisan Bloated Kat jaman dulu kyk Lipstick Homicide, Houseboat, Skimmer, Jabber, etc. Jadi buat yang masih ngablu siapa si Boys ini, okeh jadi Boys ini merupakan band pop punk asal Ohio yang dimana prime song writernya adalah mbak Megan yang dimana dibantu dengan beberapa kawan skena kyk Maura Weaver (Mixtapes, Ogikubo Station) maen gitar, Rachel (Lipstick Homicide, Wolfpack 83) maen bass guitar, dan Zach (Rational Anthem) maen drum. Singkatnya si apabila ente doyanan girly pop punk tunes taun 2000an kyk Josie And The Pussycats, NAH EP ini merupakan EP yang keren yang layak anda miliki.
Dirilis dalam format tape dan apabila kawan2 media tertarik buat ngerepyuan ni EP bisa langsung reply aja yak ni press rilis dan kita langsung kasih file digitalnya hahay!
Streaming Link :
https://rizkanrecords.bandcamp.com/album/rr38-boys-self-titled-ep
Rizkan Records' Sites :
Bandcamp – https://rizkanrecords.bandcamp.com/
Blog – http://rizkanrecords.blogspot.co.id/
Facebook Page – https://www.facebook.com/RizkanRecords
Have a nice day
Rizkan